Date:  Saturday, October 26, 2019; 6:00pm to 9:00pm
Wentworth Cafeteria — 20 Quentin Drive, Scarborough
$5 per person pre-sale, $7 per person at door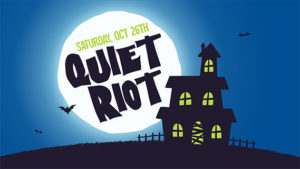 Come join Scarborough Community Services as they throw a Halloween bash like no other!
They are working with Party Headphones to provide an experience that works for all ages, abilities, and comfort levels. Their Quiet Riot event will provide each guest a wireless headset for the evening, allowing each person to adjust the volume of the music to their liking.
Come dressed in your Halloween best — They will have DJ'd music and lights, fun contests and games, a costume contest at 8:00 pm, and so much more!